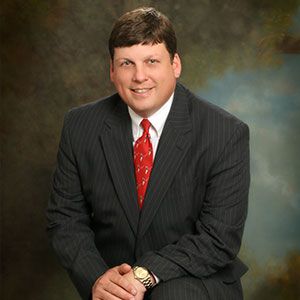 Charles E. "Chuck" Halbert, Jr.
Attorney at Law
Experienced Attorney in West Helena, AR Chuck began practicing law by entering the employment of Mike Etoch, Jr., a well- respected attorney in Helena, Arkansas, in 1992. There he immediately began handling all types of legal matters from charges against the citizen accused, to divorce, to real estate.
Later that same year, he began a contract with Phillips County to become one of its Public Defenders, defending clients on charges ranging from misdemeanors to Capital Murder. Chuck's office has handled criminal matters of every kind and nature, trying or settling hundreds of misdemeanor, traffic, DUI/DWI, and felony matters.
Chuck has had extensive experience in the areas of paternity, child support, child custody and child visitation. Chuck worked as the attorney for the Phillips County Child Support Enforcement Unit for five (5) years. He left the employment of the Child Support Unit when it asked him to take the job full-time. Chuck currently handles between 15 and 50 custody/visitation disputes each year, most within the First Judicial District.
Chuck has successfully litigated, settled or tried hundreds of cases involving injuries to his clients. These cases range from medical negligence/malpractice to car wrecks to nursing home neglect to products liability to premises liability.
Chuck is knowledgeable and up to date on laws regarding Med-Pay, insurance and subrogation. Your case is as important to him as it is to you.
He realizes that your life has been turned upside down by your injury, loss of work, lost wages and loss of enjoyment of life in general. He does all he can to make that right for you.
Practice Highlights
Represented clients in numerous product liability cases with settlements exceeding 1 million dollars each.

Represented clients in thousands of injury cases, with defendant's verdicts in only 2 in 20 plus years.

Represented clients in hundreds of divorces with property divisions from thousands to millions of dollars in assets.

Selected as Eastern Arkansas Volunteer Lawyer of the Year on more than one occasion for service to indigent clients on a pro bono basis for:

Divorce

Adoption

Guardianships

Collection Defense

Obtained settlements for violations of clients' civil rights from both Local and State governments
Professional History
Former Public Defender trying cases from drug possession to Capital Murder

Former Attorney for Child Support Enforcement

Former President Phillips County Bar Association 1994 to 2002

Member National Association of Criminal Defense Lawyers

Member of American Bar Association

Member Arkansas Trial Lawyers Association

Founding Member of Arkansas Association of Criminal Defense Lawyers

Named Top 100 Trial Lawyers by National Association of Trial Lawyers
Education
B.A. in Political Science - University of Arkansas 1989
J.D. - University of Arkansas School of Law 1991